Jim Shields
Jim's expertise and passion using the Jaguar Timing System has taken us to high quality events throughout the southeast and beyond.
State Record Snapshot – Boys 3K Steeple Holder Jim Shields
Article By: Perry King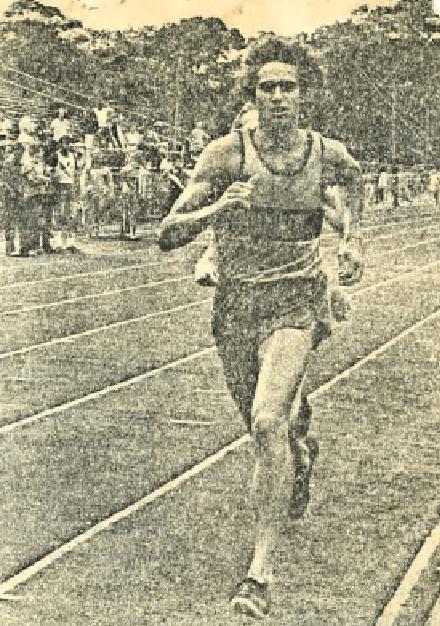 Jim Shields is set to go in early June at the 1976 AAU Junior Nationals championship at the University of Tennessee. Unbeknownst to him but fittingly during a senior senior that saw him get kicked off his Chaminade high school track team, Jim is about to become a one-man wrecking crew. By the time he is finished on the day, he will have blown away personal, state, and national records in the 3K steeplechase by a just mind-boggling amount. Nothing like the size of this demolition was seen before, and nothing like it has been seen since.
Shields has entered the race not exactly as an unknown because he does own the NY state record of 9:13.6 set one month earlier at the same University of Tennessee track while winning the 3K steeple at the Tom Black Classic, but he finished 10th the year before at Junior Nationals and he is facing reigning champ and national record holder Jon Gustafson of South Eugene OR along with a group of high-flying young collegians (19 and under). As an outcast from the track meets on Long Island, Shields has not been able to build up his reputation at big invitationals during his senior outdoor season. But that perhaps will be the key to his success on this day in Knoxville.
After the gun, Shields rolls out on his own conservative pace near the back of the pack, jumping the barriers while methodically moving up and splashing through the first mile in 4:44.5 in the third position. By the end of the fifth lap, he is in the lead and feeling very good. He pushes on at his even pace and extends his lead to ten meters going into the last lap as most of the other runners drop back. But with less than 200 meters to go, Shields faces a final test as University of Washington freshman Devon Flynn sprints up for an attack on the final water jump.
The stage appears set for a disaster for Shields, or as one of his critics would say, "If there's a way to lose a race, Shields will find it." But there's no disaster, no losing this time as Shields hits the final water jump perfectly while Flynn goes down. Racing to the finish, Shields' 8:52.6 shreds Gustafson's high school national record by a humongous 13.6 seconds and his own NY state mark by 21seconds.
Shields is stunned when he learns the time, as he had hoped to get down around 9 minutes but had never dreamed he would run a mark that would rank very competitively among the top college runners. "I knew I was going fast," he said, "I saw the ground go by very quickly." But Shields doesn't have a lot of time to sit around marveling about his feat because he has qualified for US World Junior team that will tour Europe in July, and he has work to do.
————–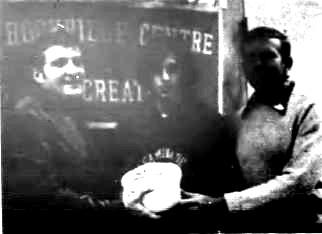 Before he set about sledge hammering the state and national 3K steeplchase record, Jim Shields had made a storied career for himself at Chaminade in Mineola, though apparently not all the stories were ones his coach and local officials appreciated. One of the first mentions of him online we could find was about his role as his school's representative at the St. Agnes Parish Teen Dance Club event in January 1974, but by then he was already making some good moves on the track and in cross country for the Flyers, placing 16th at the CHSAA XC championship to lead the Chaminade runners in his sophomore year. He had some injuries that year in the spring and jumped at the chance to do the steeplechase to earn points for his team in an event with low participation. He very much liked the event.
By his junior year, Shields had become a force in the CHSAA distance world and also local road races, taking the top butterball prize for winning the Rockville Centre Turkey Trot. He followed up a 2nd at the CHSAA Intersectionals in November with a win outdoors in the CHSAA championship with a meet record in the 3K steeplechase at 9:34.1. Though Shields may have had an occasional stumble in the distance events, in the steeplechase he found a home.
With three years experience with the steeple barriers by his senior year, Shields was running by himself at the top. Shields said, "I know there's a lot of guys who take a look at the steeplechase and say, 'I'll never do that.' But I never felt that way." The barriers didn't seem like that much of a hurdle after years of training, and it was an event that allowed him to do things his own way.
Shields' maverick tendencies seemed to catch up with him in his senior year. He started the year well enough with 2nds in XC both at CHSAA Intersectionals and at the Federation championship.  He was the top runner in the CHSAA during the indoor season and set state records in both the 3K at 8:32.4 and 5K at 14.24. He ran a very solid 9:12.8 in the 2 mile outdoors, but then the shoe dropped to end his season at Chaminade.
Exactly what the details of his banishment were are a little murky, but they certainly involve long-standing tensions between the free-spirited Shields and both his coach and school authorities. A "culmination of a series of incidents," had a final breaker when in what apparently was a Flyer track team prank with the coach (driver) not around, the guys started giving their waiting bus a bit of a push with Shields in the driver's seat working the gear stick. Caught in the act, Shields was tossed from the team and an appeal by his family to the school was rejected.
From that point on though still going to Chaminade, Shields was on his own. But not entirely, because he had made friends with a lot of runners in the area and now the Long Island Athletic Club took him in. Using local track facilities where he had trained in junior high, Shields now concentrated all of his training on building up for the AAU Junior Nationals 3K steeplechase. The LIAC helped send him down to Knoxville for the Tom Black Classic meet in May to test his endurance, and he won with a state record that was 10 seconds better than his time at the 1975 AAU Junior Nationals.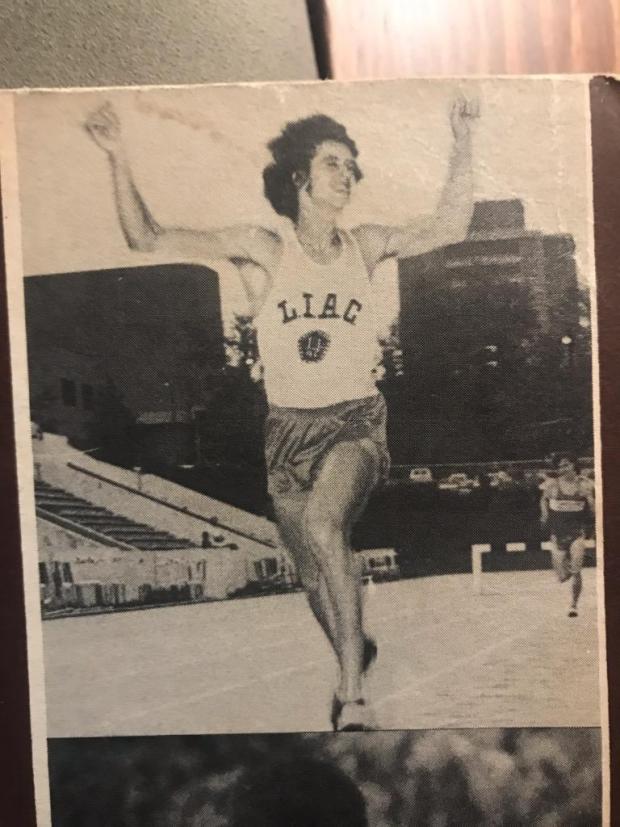 Freed from the grind of frequent meets with little recovery and training time, Shields was in peak shape when he returned to the University of Tennessee in June to destroy the national record and set a state mark that has not been that closely approached, with only Jim Gregorek getting within 5 seconds of it with his 8:56.9 in 1978. Shields' time is still the 3rd fastest ever run nationally in high school.
"I got to do the things I needed to do," said Shields of his senior year training regimen, but the result of it all was still unexpected. "It came as a total shock," he recalled, hoping beforehand to just lop some time off his PR and get down in the low 9's. Shields' fast-and-steady approach won the day as he ran even splits to leave behind all the early burst-out leaders.
Shields had a fun tour with the US Junior Olympic squad in Europe during July. He won his race against higher-seeded Russian runners in the USSR with another steady race that netted him the second best time ever for a high schooler at 9:03.2. At a later race in Germany he was on pace to run in the 8:40's but hit a hurdle and injured his knee while falling back for a 3rd place. The tour almost got cancelled in Finland when some of the athletes (not Jim) started throwing chairs off a cruise ship in a rowdy burst of spirits, but everything finished up and Shields gained great experience for the years ahead.
Shields went on to star for William & Mary College, setting a number of meet records for the Tribe and a still-standing school record of 8:44.6 in the 3K steeplchase when he won the Virginia State College championship as a sophomore in 1978. He earned All-American honors with high places at NCAA Nationals in 1978 and 1979. After working in the banking industry for many years, he now resides in Jacksonville FL and is the president of Milestone Race Authority, a racing event timing company.
The previous NY record-holder, Dave Pottetti of Fox Lane, twice won the Class B States title in cross-country, and he set the 3K steeplechase record that Shields broke when he ran a 9:21.2 in his junior year in 1967 at the Yonkers Track and Fields Championships to set a national record.